October 2020 Update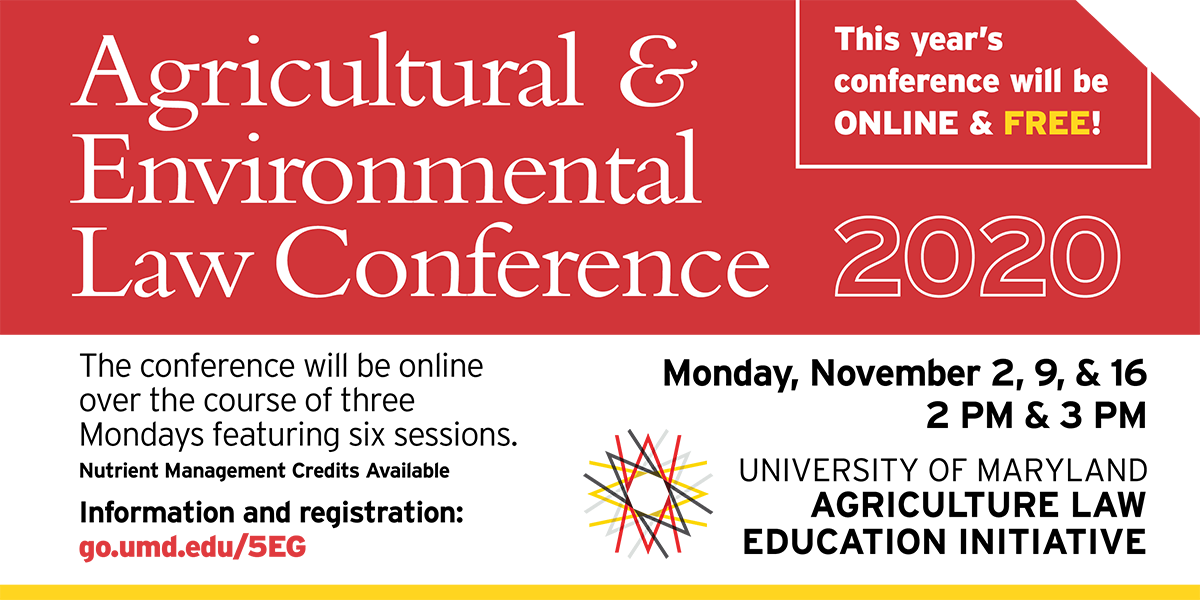 Sixth Annual Agricultural and Environmental Law Conference Offered Online
ALEI Virtually Co-Hosted the Russell Brinsfield Summer Internship
MyFaRM Risk Management Starts in November
ALEI and Maryland Sea Grant Welcome The First-Ever Maryland Sea Grant Legal Policy Fellow
Paul Goeringer Elected to the American Agricultural Law Association Board
Sixth Annual Agricultural and Environmental Law Conference Offered Online
By: Megan Todd
For six years the Agriculture Law Education Initiative (ALEI) has hosted a conference to discuss the complex legal issues that farmers grapple with regularly. This year, due to ongoing uncertainty related to the global pandemic, ALEI is moving its annual conference online by hosting a three-week webinars series. The online sessions will be free of charge and run on November 2nd, 9th, and 16th from 2:00 pm – 4:00 pm. For more information or to register, visit: go.umd.edu/5EG.

Show More

Farmers have faced a myriad of unprecedented challenges during the COVID-19 pandemic and the conference will begin on November 2nd with a session focusing on the impact of COVID-19 on Maryland's dairy industry and how dairy farmers managed the risks to their farms during the pandemic. Katie Dotter-Pyle, Co-Owner and Farmer at Cow Comfort Inn Dairy and Creamery, Brooks Long, Co-Owner and Farmer at Deliteful Dairy, and Linsday Reames, from the Maryland and Virginia Milk Producers Cooperative Association, will share lessons learned about navigating supply chain disruptions, loss, and changing markets, worker issues, insurance, and disaster relief programs. Regardless of your type of farm, producers won't want to miss these tips for adapting operations amid the pandemic.

The online sessions on November 2nd will also include the contentious topic of air quality monitoring of growers for Delmarva's poultry industry. Holly Porter, Executive Director, Delmarva Poultry Industry, Samantha Campbell, President, Keith Campbell Foundation for the Environment, and Suzanne Dorsey, Assistant Secretary of the Maryland Department of the Environment will discuss the status of their joint project to monitor air emissions from poultry houses, what can be learned from the most recent air quality monitoring results, and the potential next steps for the project. 

Sessions in the last two weeks will highlight regional water quality concerns and the local and federal legal frameworks for water quality improvements. On November 9th the sessions will focus on recent developments in the Chesapeake Bay restoration efforts, specifically the lawsuit filed against the U.S. Environmental Protection Agency (EPA) to enforce Bay clean-up efforts for all the states in the watershed. Despite continued efforts from the agricultural sector, many, including the Chesapeake Bay Foundation, fear that without the full commitment of all of the states within the Chesapeake Bay watershed, the clean-up will not be successful within the established timeframes. A related and hotly debated topic, the Conowingo Dam settlement, will also be discussed on November 9th and will feature experts representing the Clean Chesapeake Coalition and the Maryland Department of the Environment.  

The final sessions on November 16th will include experts from the American Farm Bureau Federation and others to discuss the Clean Water Act Waters of the United States (WOTUS) rule. The Conference will conclude with a round-up of this year's hot topics in Agricultural and Environmental Law and developing issues to watch out for in 2021 with Paul Goeringer, University of Maryland, and Kelly Nuckolls, National Sustainable Ag Coalition, this session never fails to provide a thorough overview of the most interesting legal developments. 

Although the Conference will be hosted in a different format, the event will continue to serve the important role of allowing farmers to present, learn, and ask tough questions about the environmental and agricultural laws that impact their operations. Time will be allotted following each session to allow attendees the opportunity to ask questions of the panelists, so register today and come prepared to join the conversation. 

 

Close
ALEI Virtually Co-Hosted the Russell Brinsfield Summer Internship
By: Sarah Everhart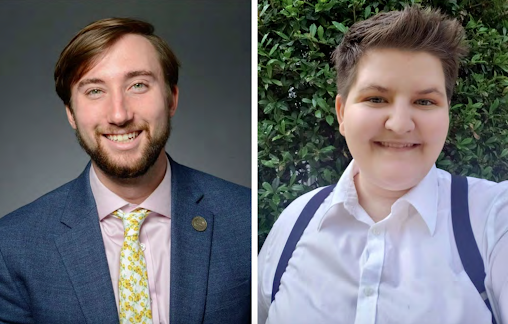 Harry Huntley and Elizabeth Johnson
In partnership with the Harry R. Hughes Center for Agro-Ecology, Inc., ALEI welcomed two interns for the fourth year of the Russell Brinsfield Summer Internship. The interns, Elizabeth Johnson and Harry Huntley, worked remotely throughout the summer on issues relating to nutrient trading, soil health, foodshed resiliency, and more. 
Show More

Johnson, a rising second-year law student at the University of Maryland Francis King Carey School of Law, hopes to work in the agricultural law field upon graduation. In addition to her law degree, Johnson is also currently pursuing a certification in environmental law. She is the fundraising chair of the Food Law Society, 2L representative of OUTLaw, and a staff editor with the Maryland Law Review. Huntley, a senior at the University of Maryland, College Park, is currently pursuing two degrees in Economics and Agricultural Science & Technology, and he hopes to build a career at the intersection of those two interests. He has previously interned with the National Association of State Departments of Agriculture and the US Senate Committee on Agriculture, Nutrition, and Forestry.

The 2020 Brinsfield interns adapted to the online world of virtual work by staying busy with projects and Zoom meetings with stakeholders across Maryland. "Despite only being able to meet people online, it was amazing how many valuable connections we were able to make," Johnson said.

The interns completed a variety of projects this summer, from a model contract for nutrient trades between a farmer and an urban stormwater permit holder to a research bank of economic studies on soil best management practices, to a Frequently Asked Questions resource that can be used by new farmers to quickly answer common business formation questions.

Huntley shared that "it was incredibly rewarding to work on such a wide variety of projects that allowed us to both reimagine the whole food system and also deliver concrete resources for farmers." 

The interns produced several educational resources that could be distributed to current and new farmers such as a blog post on new hemp regulations and a memo about honey marketing regulations in Maryland.

"I really enjoyed being able to dive deeply into Maryland regulations and laws. I found the whole process very rewarding. It was especially nice working with Harry Huntley because it meant that I could make sure that I was explaining the regulations in a way that was actually helpful to a non-lawyer," Johnson commented.

Overall, the interns agreed that the greatest takeaway was the connections they made. Said Huntley, "not only did I have fantastic co-workers and supervisors at the Hughes Center and ALEI, but they were always willing to introduce me to industry professionals who I will hopefully know personally and professionally for the rest of my career."

 

Close
MyFaRM Risk Management Starts in November
By: Nicole Cook
November 6th kicks off a new initiative called "MyFaRM" (Mastering Farm Risk Management).  MyFaRM will deliver free in-person and online risk management education to farmers.  MyFaRM Co-Project Director, Nicole Cook, ALEI Agricultural and Environmental Faculty Legal Specialist at the University of Maryland Eastern Shore, says "the MyFaRM program is an incredible opportunity for our farmers to get comprehensive information and assistance in developing risk management plans that cover the unique needs of their individual farms, plus so much more.  And it's all free!"
Show More

The MyFaRM program provides farmers 3 ways to get the information that they want for learning how to better manage the risks that come with farming in today's world.

First, farmers who commit to being in the "core group," meaning they commit to attending a minimum of 8 of the entire series of 11 in-person classes, including the kickoff class and all of the 3 Financial Risk classes, will finish the course with a five-year risk management plan that they developed for their individual farms, plus they'll be able to take advantage of all of the following special benefits:
Scholarships to attend the (virtual) UMES Hemp Conference on Nov. 5
Scholarships to attend the UMES 17th Annual Small Farm Conference on Nov. 6 (in-person) and Nov. 7 (virtual)
Greenhouse & Transplant Production Workshop by Jay Martin – Mar. 31 from 9AM-12PM at Provident Farm in Bivalve, MD
Scholarships to attend demonstration courses offered by the UMES Extension Small Farm Program throughout the summer and fall of 2021
Scholarships to attend UMES' 18th Annual Small Farm Conference in November 2021
The second group are farmers who aren't enrolled in the "core group," but who would like to attend the series of risk classes most pertinent to their farming operation. For example, farmers who would like to attend the 3 classes on Financial Risk. We do ask that these farmers commit to attending all of the classes in the respective risk area. For example, they should plan to attend all 3 Financial Risk classes. There is no limit, however, to the number of risk areas that farmers can sign up for.  For example, a farmer could choose to attend all 3 Financial Risk classes and both of the Marketing Risk classes.

The grant team is also working with an international video production company, The Carlin Company, to create a 10-part series of online, self-guided educational webinars based on the in-person classes.  The online courses, which offer the third learning "track," will be available for free on the UMES Extension's Small Farm Program and ALEI websites.
| | | | |
| --- | --- | --- | --- |
| Date | Time | Class Topic | Location |
| Nov. 6, 2020 | 2-4PM | Kickoff Class (required for core group) |  UMES Henson Center Ballroom |
| Nov. 17, 2020 | 3-6PM | Financial Risk Class #1  (required for core group) |  UMES Henson Center Ballroom |
| Dec. 8, 2020 | 2-5PM | Financial Risk Class #2  (required for core group) |  UMES Henson Center Ballroom |
| Dec. 15, 2020 | 3-6PM | Financial Risk Class #3  (required for core group) |  UMES Henson Center Ballroom |
| Jan. 7, 2021 | 3-6PM | Legal Risk Class #1 |  UMES Henson Center Ballroom |
| Jan. 21, 2021 | 3-6PM | Legal Risk Class #2 |  UMES Henson Center Ballroom |
| Feb. 9, 2021 | 3-6PM | Human Risk Class |  UMES Henson Center Ballroom |
| Mar. 8, 2021 | 9AM – 12PM  | Production Risk Class #1 |  UMES Henson Center Ballroom |
| April 7, 2021 | 9AM – 12PM   | Production Risk Class #2 |  UMES Demonstration Farm |
| May 11, 2021 | 3-6PM | Marketing Risk Class #1  |  UMES Henson Center Ballroom |
| June 2021 (Date TBD) | Whole day  | Marketing Risk Class #2 |  UMES Small Farm Marketing Bus Tour* |
* This last class of the marketing risk series will coincide with the 2021 Small Farm Marketing Bus Tour. Farmers enrolled in the "core group" and those enrolled in the Marketing Risk classes will receive a scholarship to attend the bus tour.


MyFaRM instructors include experienced educators from ALEI, UMES Extension, the University of Maryland Extension, Virginia State University, the Maryland Agricultural & Resource-Based Industry Corporation (MARBIDCO), MidAtlantic Farm Credit, and other industry experts. Farmers with experience in diversifying their farms and developing niche markets for their products will also be presenters.

There will be a 30-minute break in the middle of each class with refreshments provided, and all in-person classes and events will require everyone to adhere to public health requirements.

Click the Eventbrite link here to apply to be in the core group or to register to attend the classes in any risk area.

For more information about the MyFaRM program, for assistance in registering for classes in a risk area, or to request a paper application be mailed to you, contact Nicole Cook at nlcook@umes.edu or by calling 410-651-6182.

The MyFaRM (Mastering Farm Risk Management) project is supported by the USDA National Institute of Food and Agriculture under award number 2018-70027-28588.

 

Close
ALEI and Maryland Sea Grant Welcome The First-Ever Maryland Sea Grant Legal Policy Fellow
By: Nicole Cook
Elissa Torres-Soto
Last year, Maryland Sea Grant (MDSG) and ALEI teamed up to obtain NOAA Sea Grant funding for a policy fellow.  And boy did we get a great one!  Elissa Torres-Soto is the first-ever Maryland Sea Grant Legal Policy Fellow.
Show More

Elissa earned her JD, Magna Cum Laude, from the Pontifical Catholic University of Puerto Rico School of Law, and her LL.M. (Master of Laws) in Environmental and Energy Law with a Certificate in Food and Drug Law from Georgetown University Law Center.  She will be spending the next year working on aquaculture issues and coastal resilience issues.  Her specific "mandate" is to develop educational materials and provide training and programming for government agencies, coastal industries, and coastal communities addressing coastal law and policy in Maryland and the Chesapeake Bay around topics including aquaculture, sea level rise impacts and resilience, and stormwater management.

The purpose of the Maryland Sea Grant Legal Policy Fellowship is to serve to increase the legal capacity of local, state, and federal government agencies as well as non-governmental partners and coastal industries in Maryland, and to promote integration of a range of perspectives into problem-solving for Maryland to provide more inclusive solutions and facilitate training around and development of coastal laws and policies.  ALEI's collaboration with MDSG on this project began back in 2018 when the National Sea Grant Law Center held a national call for proposals open to all Sea Grant programs interested in exploring their capacity to build a legal program and what that program might look like.  MDSG has long been interested in exploring opportunities to develop legal capacity and/or build partnerships with local legal institutions.  The University System of Maryland lacks a coastal legal policy program with whom to partner, but since 2013 Maryland has supported ALEI and MDSG was interested in developing a partnership with ALEI to build MDSG's legal capacity.  In working together, MDSG and ALEI aimed to determine the feasibility of creating a collaborative coastal law and policy resource in Maryland that would benefit both programs and serve our stakeholders.

Working closely together, MDSG and ALEI obtained a capacity building grant from National Sea Grant, which was used in the summer of 2019 to implement the first-ever assessment of the legal needs of Marylanders who live or work on Maryland's coast.  Then, at the end of 2019, with help from the Carey Law School's Dispute Resolution Center, regional partners like the Virginia Coastal Policy Center (VCPC), Virginia Sea Grant, Delaware Sea Grant, and the National Sea Grant Law Center, and as well as several other Sea Grant legal programs throughout the country, MDSG and ALEI hosted the Maryland Coastal Law and Policy Roundtable, which brought Maryland's stakeholders together to hear their ideas for how Maryland Sea Grant could build legal capacity to serve its constituents.

Based on the feedback from the needs assessment and the roundtable, Maryland Sea Grant and ALEI then pursued additional funding to create the Maryland Sea Grant Legal Policy Fellowship. In September, 2020, the first Fellow was hired.

Elissa's projects over the next year will be selected in collaboration with an advisory committee created especially for this fellowship and which includes members from the Maryland Department of the Environment, the Maryland Department of Natural Resources, VCPC, Georgetown University Law Center, the Chesapeake Legal Alliance (CLA), MDSG and ALEI.  Nicole Cook, ALEI Agricultural and Environmental Faculty Legal Specialist at the University of Maryland Eastern Shore, is supervising and mentoring Elissa with help from lawyers at the CLA.

For Elissa, the Fellowship provides opportunities to gain experience with a variety of legal, policy, and regulatory matters concerning aquaculture, environmental compliance, and land use policy, including the impacts of sea-level rise on coastal communities and governmental responses to the changing landscape.  "This Fellowship constitutes a wonderful opportunity for professional growth and for establishing crucial connections that will help shape my future legal career," Elissa said.  "I am truly committed to contributing my knowledge and experience to aid in the efforts of building capacity in coastal law and policy matters, [and] am very excited to be joining ALEI and Maryland Sea Grant's teams. [I]t is going to be an amazing year."

For MDSG, the Fellowship allows MDSG to continue to partner with ALEI, to bring in other potential project partners who will help to oversee the fellow, and to focus on efforts to more firmly establish MDSG's place in the Sea Grant legal network and Maryland's coastal legal education and outreach network. According to Fredrika Moser, Director of Maryland Sea Grant College Program, "Maryland Sea Grant has long supported science-based decision making. We also recognize the importance of understanding legal issues in balance with scientific inquiry. This new fellowship position provides an excellent bridge between science and legal experts to further advance Maryland Sea Grant's and ALEI's capacity to inform coastal policy. We are incredibly excited to launch this project with the hire of Ms. Torres-Soto who brings great intellectual curiosity to the position and a deep interest in working closely with Maryland's coastal communities."

 

Close
Paul Goeringer Elected to the American Agricultural Law Association Board
By: Devin Doolan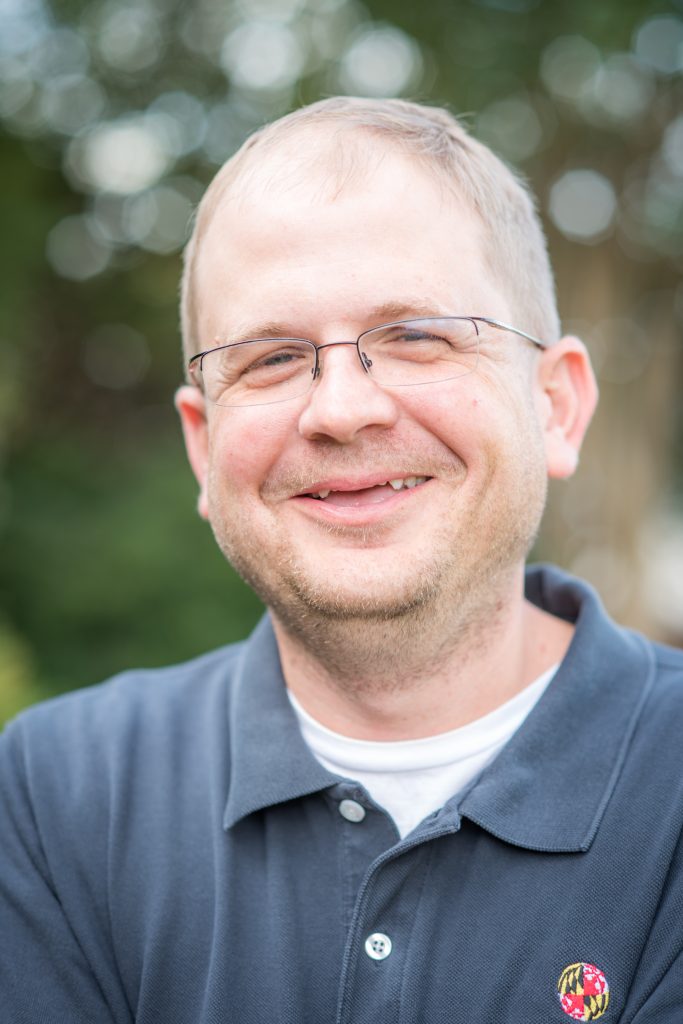 Paul Goeringer by Edwin Remsberg
Following his nomination over the summer, Extension legal specialist Paul Goeringer, Department of Agricultural and Resource Economics, University of Maryland College Park, has been elected to the American Agricultural Law Association (AALA) board. Goeringer is one of two AALA members to be elected by his peers this year. He will serve a three-year term beginning in November.
Show More

The American Agricultural Law Association serves as the premier organization in engaging and informing law and policy professionals who work in America's food and agriculture communities, and its membership continues to grow. The Association was founded in 1980 in response to the farm financial crisis, which affected the vast majority of American farmers at the time who were left without legal advice regarding rapidly evolving food and agriculture sectors. The Association's forums, publications, and hands-on legal education offer the protection American farmers need in an industry that continues to evolve. Out of a forum of over 400 members from all 50 states, Goeringer, the first AALA elected member from Maryland, will be one of only eight to sit on the board. 

Goeringer joined the AALA in 2007 and has served three years as the AALA Membership Chair and two years as the Co-Chair of AALA's quarterly newsletter, The Agricultural Law Update. As Membership Chair, Goeringer presided over three years of continued expansion. Goeringer's time as Co-Chair of the Update offered him a unique and intimate perspective on the daily problems facing American farmers, a perspective vital to handling the variety of issues he will encounter while sitting on the board. In addition to working to expand the Association's membership and reach, Goeringer will help manage and support the AALA's various committees and chairs during his three-year term. 

"I'm excited that my peers elected me," said Goeringer, "and I'm excited to serve a three-year term and figure out how to help the organization grow and be more productive." This will be a crucial time for the AALA as it continues to operate in the midst of a global pandemic, and Goeringer says he is looking forward to the challenge. 

 

Close