June 2023 Update

Meghana Kotraiah Named Udall Scholar
By: Paul Goeringer based on original press release by Laura Barnhardt Cech
Meghana Kotraiah, a junior at the University of Maryland, College Park, has been awarded a scholarship from the Morris K. Udall and Stewart L. Udall Foundation (Udall Foundation).  Meghana is working on a dual degree (B.S. Government and Politics, B.S. Agricultural and Resource Economics) and a dual minor (Asian American Studies and Secondary Education).  Meghana has served as an undergraduate researcher with ALEI since 2021, focused on agricultural labor issues.
Show More

On campus, she's held positions in the Student Government Association, worked as a campus tour guide, and served on the President's Commission on LGBTQIA+ Issues and Student Alumni Leadership Council. Within the College of Agriculture and Natural Resources, she served on the Dean's Student Advisory Council and the Diversity, Equity, Inclusion, and Respect Council. She is also a member of the Sigma Alpha Professional Agricultural Sorority.  Congratulations to Meghana on this honor.


The Udall Scholarship recognizes leadership, public service, and commitment to issues related to Native American nations or to the environment. It provides up to $7,000 for tuition, room and board, or other educational expenses and the opportunity to travel to Tucson, Arizona, where the foundation is headquartered, for a summer conference.  The Udall Foundation was established by the U.S. Congress in 1992 as an independent executive branch agency to honor Morris K. Udall's lasting impact on this nation's environment, public lands, and natural resources, and his support of the rights and self-governance of American Indians and Alaska Natives.

Close
ALEI and the Hughes Center Welcome the 2023 Brinsfield Interns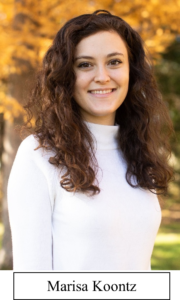 By: Margaret Todd
Together with the Harry R. Hughes Center for Agro-Ecology, ALEI is pleased to welcome three interns for the upcoming Russell Brinsfield Internship Program.  Founded in 2017, the Brinsfield Internship Program engages law students from the Francis King Carey School of Law at the University of Maryland, Baltimore (UMB) and the University of Maryland, College Park (UMCP).
Show More

Named in honor of Dr. Russell Brinsfield, who was a leader in agricultural science at the University of Maryland and co-founder of the Hughes Center, the program invites students to work together to develop viable solutions to a variety of complex environmental, agricultural and forestry-related issues.  The 2023 interns are Marisa Koontz, Beverly Bolster and Olivia Scuderi.

Marisa Koontz is a rising second year law student at the Carey School of Law at UMB, where she is pursuing her law degree alongside a Master of Public Health from the Johns Hopkins Bloomberg School.  Her interests lie in the areas of food, agriculture and environmental law, and their implications for public health.  Prior to entering law school, Koontz served as a Peace Corps volunteer in Kosovo and worked as the Home Delivery Coordinator for a local food pantry in her home state of Iowa.  In her free time, she enjoys cooking and roller skating.  Her goals as a Brinsfield Intern include learning more about the wide variety of legal issues in food and agriculture law, and expanding her research skills within the context of the food and agricultural system.  An additional goal, says Koontz, is to "connect with others in the food system to learn more about expanding food access and increasing food security."  

Beverly Bolster is an undergraduate student studying Geospatial Data Science and Sociology at UMCP.  She is passionate about understanding how people interact with their environment, and promoting environmental health and food security.  Outside of classes and student organizations, Bolster enjoys reading, baking, running and hiking.  She looks forward to working with other Brinsfield Interns, mentors and partner organizations to further her knowledge on promoting sustainable agricultural practices in Maryland.  In particular, Bolster hopes to "work on projects related to urban agriculture and food security."  

Olivia Scuderi is a junior at UMCP, studying Animal Science with a minor in Science, Technology, Ethics, and Policy.  She aspires to be involved with the growing field of agricultural research policy and hopes to one day take over her family's farm in Montgomery County, Maryland.  Olivia was the winner of the 2022 Maryland Farm Bureau Collegiate Discussion Meet and is the School of Agriculture and National Resources Student Council President.  As a Brinsfield Intern, Scuderi is looking forward to engaging with Maryland's agricultural stakeholders in conversations around agriculture and the environment.  She would like to "expand her knowledge about the issues facing farmers throughout the State and take that knowledge to her local policy makers."  

The Brinsfield Internship Program is supported with funding from the University of Maryland Strategic Partnership: MPowering the State (MPower).  A collaboration between the State of Maryland's two most powerful public research institutions: UMB and UMCP, MPower seeks to strengthen and serve the State of Maryland and its citizens.

Close
New Aquaculture Resource's Available on ALEI's Website
By: Nicole Cook & Ju-Ching Huang
Thanks to our first-ever Maryland Sea Grant-ALEI Legal Policy Fellow, Elissa Torres-Soto, who created the resources, Maryland Commercial Shellfish Aquaculture Leaseholders can now find lots of helpful, step-by-step information online about how to transfer a commercial shellfish aquaculture lease, and why they might want to.
Show More

In 2020 and 2021, Torres-Soto worked closely with DNR to create easy-to-understand, and to access, resources to provide education to assist leaseholders with understanding when and why they might need to transfer a shellfish lease, and the steps involved in successfully transferring a lease.  The materials provide valuable information to help sustain Maryland's aquaculture industry.

A shellfish lease is not inheritable and cannot be passed down to next of kin through a will or estate.  Being able to transfer a lease to a business entity or a co-leaseholder can offer some assurance of lease continuity.  Because business partnerships or family relationships may change over time, the transfer process may also be utilized to remove a co-leaseholder.

The new resources include:

DNR also now has live updates and links to the materials on its website at https://dnr.maryland.gov/fisheries/pages/aquaculture/transfer.aspx.

The Maryland Sea Grant-ALEI Legal Policy FellowshipALEI and Maryland Sea Grant (MDSG) teamed up in 2018 to procure NOAA Sea Grant funding for the fellowship program.  The fellowship is designed to "create a collaborative coastal law and policy resource in Maryland for the benefit of Maryland Sea Grant and ALEI stakeholders" according to Nicole Cook, UMES Extension's environmental and agricultural faculty legal specialist.  Cook supervises the fellows. Torres-Soto's fellowship ended in 2021 and she went on to become a staff attorney at the Environmental Law Institute. The current Fellow, Ju-Ching Huang, is a Doctor of Juridical Science candidate at Georgetown University Law Center.  Huang has been "diving deep into the legal and policy challenges for Maryland's developing land-based recirculating aquaculture system seafood industry as well as investigating how climate change is impacting Maryland's coastal aquaculture industry and its associated communities," Cook said.  Huang's charge, Cook said, is finding legal tools that can help the industry and communities better adapt to the impacts of the changing environment.

The fellows' projects are selected in collaboration with an advisory committee which includes members from the Maryland Department of Natural Resources, Virginia Coastal Policy Center, Georgetown University Law Center, the Chesapeake Legal Alliance, the University of Maryland Center for Environmental Sciences Board of Visitors, MDSG and ALEI.

We are currently selecting our next Fellow.  That person will begin their fellowship this fall.  You can read more about the Maryland Sea Grant-ALEI Legal Policy Fellowship and our fellows here and here.

Close
ALEI Awarded SARE Grant to Promote Increased Farmer Acceptance of Federal Nutrition Benefits

By: Margaret Todd
 The University of Maryland Francis King Carey School of Law has been awarded a three year, $190,073 grant from the Northeast Sustainable Agriculture and Research Education ("SARE") program.  The grant will be administered by the University of Maryland Agriculture Law Education Initiative ("ALEI").  The Harry R. Hughes Center for Agro-Ecology Inc. is a collaborator and subrecipient on the grant project, with additional expertise and support provided by the University of Maryland Extension SNAP-Ed program.
Show More

SARE is a program of the National Institute of Food and Agriculture, U.S. Department of Agriculture ("USDA").  The grant is from SARE's Professional Development Program, which provides training, grants, and resources for agricultural service providers to build their awareness, knowledge, and skills related to sustainable agriculture concepts. 

The project will engage agricultural service providers and non-profit organizations that provide farmer outreach in a comprehensive education program about the process for acceptance of federal nutrition benefits. Through a series of five regional workshops and ongoing technical support, the project will equip agricultural service providers with the knowledge, skills, tools and confidence to educate and advise farmers on how to successfully apply to accept federal nutrition benefits.  According to ALEI Research Associate Megan Todd, "the many programmatic requirements make it challenging for agricultural service providers to thoroughly understand the available federal nutrition programs.  This education series will equip them to assist farmers in being able to accept federal nutrition benefits on their own farms, farm stands and CSA programs, thereby enabling them to access increased financial stability while also ensuring widespread access to local healthy foods." 

ALEI is a collaboration of the University of Maryland Francis King Carey School of Law at the University of Maryland, Baltimore ("UMB"); the College of Agriculture & Natural Resources at the University of Maryland, College Park ("UMCP"); and the School of Agricultural and Natural Sciences at the University of Maryland Eastern Shore ("UMES").  ALEI is an initiative of the University of Maryland Strategic Partnership: MPowering the State, a collaboration between the State of Maryland's two most powerful public research institutions: UMB and UMCP.  It leverages the sizable strengths and complementary missions of both institutions to strengthen Maryland's innovation economy, advance interdisciplinary research, create opportunities for students, and solve important problems for the people of Maryland and the nation.  ALEI was established to help preserve Maryland's family farms and assist their owners in addressing the complicated legal issues associated with agriculture.  The Hughes Center provides leadership to promote environmentally sound and economically viable agriculture and forestry as Maryland's preferred land use through research, outreach and collaboration.

Close
UMD Faculty Specialist Secures Funding from the Northeast Risk Management Education Program
By: Elizabeth Thilmany
The Northeast Risk Management Education Center's Risk Management Education program recently awarded a $50,000 grant to the University of Maryland (UMD) College Park Faculty Specialists Elizabeth Thilmany (Project Director) and Paul Goeringer (Co-Project Director) to evaluate the legal and economic implications of large solar developments on Maryland agriculture. The primary goal of this project is to synthesize information on utility-scale solar leasing and other land-use options to support Maryland producers while they make decisions about their land.
Show More

"This topic is timely and evaluates how addressing climate change goals can impact producers," says Elizabeth Thilmany, "Our previous work on this topic has revealed tensions between urban and rural communities." 

A unique component of this programming will be using peer groups amongst the landowners and producers attending the workshops to bolster their abilities to be rational economic agents in their current and future land use decisions. "This project not only helps develop new information to help Maryland landowners with critical land use decisions; it also creates new pathways for producers to learn and assimilate this information through the peer-to-peer environment that peer groups foster," explains Shannon Ferrell, a professor of agricultural law at Oklahoma State University who is also a partner on the project. With the support of the project's partners like the Maryland Department of Agriculture and Eastern Shore Land Conservancy, this project will improve Maryland producers' and rural landowners' understanding of land use opportunities. 

If you are a landowner interested in participating in this project's future programming, please contact Elizabeth Thilmany (thilmany@umd.edu) or fill out the form at this link (https://go.umd.edu/3I4mL1E). 

This work is funded by the Northeast Risk Management Center and is based upon work supported by USDA/NIFA under Award Number 2021-70027-34693.

Close
Landowner-Oriented Agricultural Law Online Modules Now Available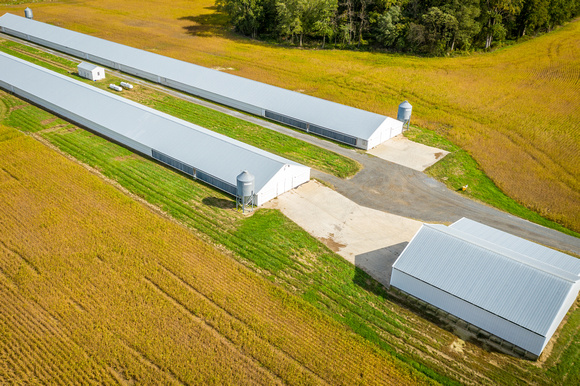 By: Paul Goeringer
College Park, MD – The Department of Agricultural and Resource Economics (AREC) has released a new online course for rural landowners in Maryland. The So You Want to Own Farmland in Maryland course is now available through the University of Maryland's Enterprise Learning Management System – Canvas. 
Show More

The free program will cover those legal issues that Maryland landowners may face. A grant funds the program through the Northeast Risk Management Education Center.  

The online course will feature Paul Goeringer, a Senior Faculty Specialist and Extension Specialist in agricultural law.  He will address leasing, landowner liability issues, right-to-farm law, fencing laws, livestock liability, and estate planning.  

"This online course is a great opportunity for landowners and other professionals in rural areas to learn about or refresh on some basic legal issues that many deal with daily.  They can understand their rights and responsibilities whether they are involved in agriculture or own land in a rural area and live next door to an agricultural operation," said Goeringer.

The online course is free to attend and is at a participant's own pace.

Participants will receive copies of Extension fact sheets and other valuable documents as a part of the online course.  

For more information or to register, go to https://go.umd.edu/3ZSkv4r.  For more information, please get in touch with Paul Goeringer at lgoering@umd.edu.

This is material is based upon work supported by USDA/NIFA under Award Number 2021‐70027‐34693.

Close
A Special thank You To Sarah!
By: The ALEI Team
The Agriculture Law Education Initiative would like to thank Sarah Everhart for her nine years of service! Sarah has accepted a faculty position at Widener University Commonwealth Law School, and will be leaving ALEI at the end of June.
Show More

Sarah started with ALEI at the University of Maryland, Baltimore Francis King Carey School of Law in 2014. As part of her work with ALEI, Sarah worked with and educated producers throughout the state, focusing on food safety, labor law, land use law, and environmental policy. Sarah also taught law classes as an adjunct and visiting professor at the UMB Francis K. Carey School of Law, teaching Land Use Law; Food, Farming, & Sustainability; Natural Resources; and Animal Law. 

Over the past 9 years, not only has Sarah authored and implemented numerous educational publications, factsheets, and programs, served as the initiating force behind ALEI's annual Agricultural and Environmental Law Conference, and been instrumental in developing successful partnerships with key agencies and organizations across Maryland and other states, Sarah has also served as an invaluable mentor and resource to those around her. She has engaged her law students as research assistants on a number of ALEI projects, exposing new generations of lawyers to the various areas of policy, law, and regulation that impact agricultural operations. Her work with the Hughes Center for Agro-Ecology managing the Brinsfeld intern program, is another testament to her passion and drive for educating undergraduate and law students about agriculture in the state, working over the summers to guide them through research problems impacting Maryland agriculture.  

We wish Sarah the best of luck in her new role (even though she doesn't need it – she makes her own luck!) and know that she will continue to do amazing things in her future endeavors! Thank you Sarah, you will be truly missed!

Close
---
---
Quarterly Update Archive
Home 

»

 Quarterly Update Archive