April 2021 Update
Food Safety Education During COVID-19: Webinars, Zoom Trainings, and Farmers Market Meetings
Risk Management and Educational Outreach for Industrial Hemp
Assessing the Prevalence of Heirs Property in Maryland
The 2021 Brinsfield Interns are Ready to Research, Write and Educate
Food Safety Education During COVID-19: Webinars, Zoom Trainings, and Farmers Market Meetings
By: Sarah Everhart & Megan Todd
Last March, ALEI Senior Legal Specialist Sarah Everhart traveled to McHenry, Maryland, to provide a Produce Safety Rule (PSR) training with the other members of the Maryland Food Safety Network. The onset of COVID-19 began shortly thereafter. Everhart and the other educators soon realized it would be the last in-person education they would be able to offer Maryland farmers until the COVID-19 pandemic resolved. Although the global pandemic required food safety education to be presented in new virtual formats, ALEI legal specialists were able to quickly adapt and continue reaching farmers to give them the information and resources they need to prevent foodborne illness outbreaks. 
Show More

How To: PSR Webinar Series

The ALEI legal specialists who are a part of the Maryland Food Safety Network took note of survey feedback from farmers who attended PSR trainings, asking for practical tips on how to successfully implement the PSR and translate the recommended food safety methodologies into everyday steps on the farm.  To address this need, the Maryland Food Safety Network created and hosted monthly webinars from May through November 2020 to provide growers with examples, pictures, and suggestions for each of the sections of the PSR. The subjects covered included: 
How to: Effectively and Efficiently Train Your Workers  
How to: Make Water Risk Assessments  
How to: Get A Handle on Water Quality  
How to: Manage Wildlife  
How to: Develop A Sanitation Program 
How to: Apply, Handle and Store Biological Soil Amendments
The final webinar in the series, "How to: Put It All Together in A Food Safety Plan," details how growers can combine all of their food safety standard operating procedures to form a farm food safety plan. If you missed the webinar series you can still access all of the recorded webinars on the ALEI Food Safety website. 

Online Produce Safety Trainings

With guidance from experts at the Produce Safety Alliance, the Maryland Food Safety Network team successfully hosted two virtual, multi-day PSR trainings for Maryland farmers in 2021. The online trainings helped 48 growers complete their food safety training requirements. According to Everhart, "it was a challenge to provide such a dense course in this format, so we reformatted the course from one eight hour day to a two-day training, and incorporated many interactive elements, such as polls, to keep growers engaged throughout the day." The feedback from growers included gratitude for the availability of the remote training and that they enjoyed being able to attend from the comfort of their homes. 

Growers who are interested in attending a PSR training online should check out the Produce Safety Alliance (PSA) website for upcoming courses. Because the PSR is a federal law (applied and enforced in Maryland by the Maryland Department of Agriculture), Maryland growers can take a PSA-approved grower training offered in another state to satisfy the legal requirement for attending. Remote delivery opportunities are a temporary option being supported during the COVID-19 outbreak. This policy will be in effect until September 30, 2021, with the potential for extension pending updates on the pandemic, after which the PSA expects to revert to in-person training requirements.

Farmers Market Meetings

ALEI and the Maryland Food Safety Network were excited to create and administer food safety education to a new group of stakeholders this winter: farmers market managers and vendors. Everhart and Research Assistant Margaret Todd, along with Dr. Angela Ferelli from the University of Maryland Department of Landscape Architecture and Plant Science, presented "Food Safety at the Farmers' Market" at six virtual meetings hosted by the Maryland Department of Agriculture (MDA), in partnership with Maryland SNAP-Ed, and the Maryland Market Money Program. 

There have been serious foodborne illness outbreaks traced to farmers' markets throughout the United States. Consumers tend to visit farmers markets and assume fresher also means safer, however contamination from pathogens can happen on any size farm. With the recent surge in demand for locally produced foods, food safety risk reduction strategies at farmers' markets are increasingly vital to prevent the spread of foodborne illnesses. 

The goal of this series of food safety education was to help farmers' market managers identify potential areas of risk and share strategies to reduce or mitigate those risks. The presentation focused on ongoing COVID-19 precautions and providing an overview of federal and state food safety regulations for market managers to help them understand how laws might apply to the vendors at their markets and what licenses and/or certifications vendors must have before selling at market. Attendees were also told how to register to receive a free portable handwashing station and food safety signage from the MDA. As part of the training, attendees were given a Farmers Market Food Safety Checklist created specifically to help market managers track implementation of food safety practices throughout the market season. Everhart, as part of the farmers' market webinar series, also presented a modified version of the material covering additional food safety issues unique to urban farms. 

Funding for this series of work described in this article was made possible, in part, by the Food and Drug Administration through grant PAR-16-137.  The views expressed in written materials or publications and by speakers and moderators do not necessarily reflect the official policies of the Department of Health & Human Services; nor does any mention of trade names, commercial practices, or organization imply endorsement by the United States Government. 

 

Close
Risk Management and Educational Outreach for Industrial Hemp
By: Laura Wormuth
Senior Faculty Specialist in the Department of Agricultural and Resource Economics Paul Goeringer is leading a team of researchers and Extension specialists in an analysis of risk management tools and educational outreach for small and medium-sized farmers interested in transitioning to growing industrial hemp.
According to a national survey, risk management options for recently legalized hemp production, as well as market access, were of the main concerns for farmers and hemp stakeholders. In light of this, Goeringer's assembled team consisting of faculty from the University of Kentucky, the University of Tennessee, and Drake University in Iowa, were awarded nearly $500,000 through the USDA's Agriculture and Food Research Initiative Competitive Grant Program, to analyze available tools and develop standardized options for the farmers looking to add industrial hemp production into their rotations.
Show More

"We're going to look at the current legal framework that exists and compare states to determine what works and what doesn't," said Goeringer, the Principle Investigator for the project. "And we're going to look at the contracts farmers are signing with processors for the different hemp products — fiber and CBD."

U.S. industrial hemp production has increased from 0 acres in 2013 to over 500,000 acres in 2019, the team wrote in the 2020 proposal, but while demand has increased, economic sustainability is uncertain, and lack of standardization in crop insurance and risk management tools for farmers creates vague contracts and uncertainty for the industry. 

Through an analysis of existing legal frameworks and crop insurance tools for the various states, Georinger's team will begin to develop standardization in risk management products to protect farmers and the processors who buy the crops.

"We have this with every new crop," Goeringer explained. "We don't currently have enough data to develop economically sound products."

In conjunction with the analysis and data development for the state, local, and national advisory panels of stakeholders, farmers, processors, and vested parties will come together to develop risk management and crop insurance tools that will provide equivalent security that production of traditional crops like corn or soy enjoy. These advisory panels will be held regionally to focus on state needs, but, said Goeringer, there will also be a larger panel looking at the national standards.

"We want to provide a contract guide for growers that will help them understand what they should look for in a contract," said Goeringer. "At the same time, this will help provide information for attorneys. So if they're working with a grower, the attorney can help them understand their contracts and negotiate better terms."

The research piece of this project will help to eliminate the vague language that currently makes up the legal and insurance tools available for new producers, Goeringer said, and it will also be translated into Extension educational programming to be delivered across the U.S. to assist farmers in making educated decisions about growing industrial hemp.

"We'll develop a train-the-trainer model with a handbook and sample contracts, along with a PowerPoint or video series that can be used to educate farmers in Maryland and across the U.S.," said Goeringer. "We can't do outreach in each state, but we can train people across the country to help their farmers."

This work is supported by the Agriculture and Food Research Initiative (AFRI) program from the U.S. Department of Agriculture, National Institute of Food and Agriculture.

To learn more about the University of Maryland's Department of Agricultural and Resource Economics, go to arec.umd.edu. To learn more about the USDA Agriculture and Food Research Initiative, go to https://nifa.usda.gov/program/agriculture-and-food-research-initiative-afri.

 

Close
ALEI To Conduct First-Ever Assessment Of Heirs Property In Maryland
By: Nicole Cook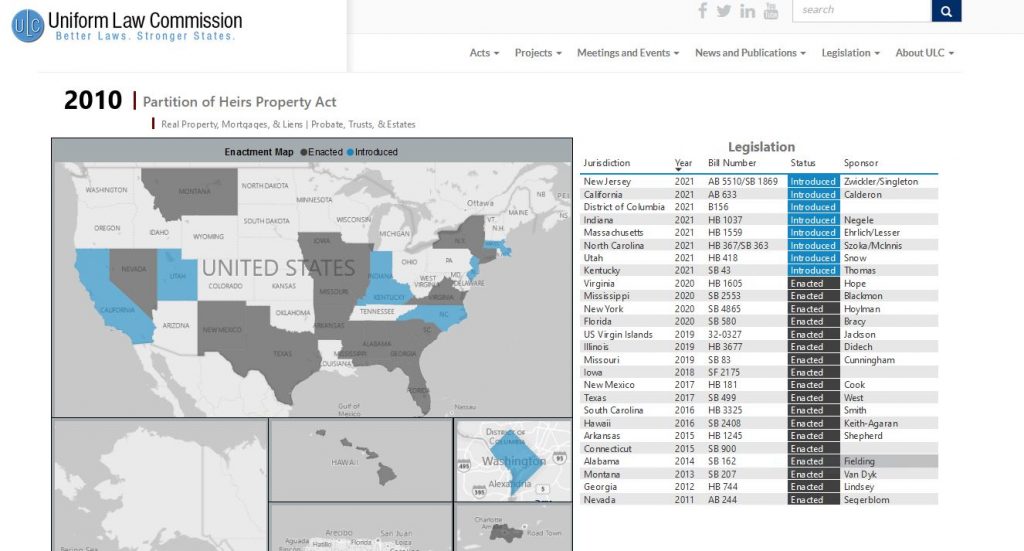 Thanks to funding from The Campbell Foundation, this summer, ALEI's Nicole Cook, in collaboration with the University of Maryland Eastern Shore Extension (UMES Extension), will be conducting the first-ever needs assessment aimed at determining the prevalence of heirs property in Maryland.  As explained in this blog post, "heirs property" is land that's been informally passed down through families; often without a will ("intestate") and often over several generations.  Fortunately, with the passage of the 2018 Farm Bill and (as noted in this blog post) again more recently in the American Rescue Plan Act of 2021, there are more resources than ever to assist owners of heirs property who want to secure their property rights.
Show More

Heirs property is prevalent throughout the country, particularly in low-income and minority communities where family land is more often passed down intestate.  In many instances, because there was no will, the land is passed under state probate law, and the next generation owners of heirs property owns the land as "tenants-in-common," regardless of whether those family members maintain any connection to the family or the property.  Any property that's held as tenants-in-common is vulnerable to being lost because any individual owner can force a partition of the land, which means they can force a sale of the land, and, unless those family members who want to keep the land can afford to pay the winning bid at public auction, they will lose the land.  Heirs property is particularly vulnerable to being divided up, overdeveloped and not managed with conservation in mind.  In addition to the threat of losing the land, for farmers, having clear title to land is the key to accessing federal programs, including conservation programs.

The funding for this project provides the capacity needed to undertake a comprehensive assessment of the prevalence and associated needs of heirs property owners in Maryland.  Specifically, Cook will conduct initial research by looking up county tax and public records to determine the prevalence of heirs land property in Maryland and then develop surveys to be distributed electronically and in hard copy throughout the state to determine the prevalence of heirs land property in Maryland and the needs of heirs property landowners in Maryland.  In conjunction with conducting the assessment, Cook will develop and disseminate educational materials to inform landowners and other stakeholders about the issues related to heirs property in order to increase the reliability of survey results.

The data from the assessment will inform the education needed to assist owners of heirs property with securing the rights needed to be able to direct the use of the land, and managing their natural resources in a way that provides environmental and financial benefits.  It will also help inform the state's General Assembly about the issue and the state's Bar Association.

The results of the needs assessment will be reported in the fall, so be sure to keep reading ALEI's Quarterly Newsletter!

 

Close
The 2021 Brinsfield Interns are Ready to Research, Write and Educate
By: Sarah Everhart & Megan Todd
The Russell Brinsfield Internship Program is a collaboration between the Hughes Center for Agro-Ecology, Inc. and ALEI. The internship program, which began in 2017, engages an undergraduate student from the College of Agriculture & Natural Resources at the University of Maryland and a law student enrolled at the Maryland Francis King Carey School of Law, who work together to develop viable solutions to a variety of complex environmental, agricultural and forestry-related issues. Funding for the Brinsfield internship is provided, in part, by the University of Maryland Strategic Partnership: MPowering the State.
Show More
Codi Coulter is a rising second year law student at the University of Maryland Francis King Carey School of Law. She has an undergraduate degree in agricultural communications from Texas Tech University. Before law school, Coulter held several communications positions in the restaurant and agriculture industries, as well as with an agency working with a federal government client. Coulter has a lifelong interest in agriculture and its role in feeding a growing world. Coulter intends to use her legal education to advocate for farmers and ranchers and help them find sustainable solutions to the challenges they face. According to Coulter, "[t]he Brinsfield internship is a great opportunity to bridge my agricultural communications background with my ongoing legal education. I'm looking forward to learning about agriculture and sustainability in Maryland and applying the knowledge and skills I gain from this internship to my future legal career."
Maeve Kessler is a rising senior Environmental Science and Policy major with a concentration in Environmental Geosciences and Restoration at the University of Maryland. She is also pre-law with a particular interest in environmental law. On campus, she is dedicated to working as a student ambassador for the college of Agriculture & Natural Resources, a position that involves recruiting and supporting new incoming students. Kessler is also the vice president of the campus geology club and an undergraduate student researcher at the Soil Quality Lab under Dr. Ray Weil. Originally from Yardley, PA, Kessler is looking forward to working on issues related to nutrient management for the Chesapeake Bay, an issue she is passionate about, and the opportunity to meet and work with other environmental professionals, especially environmental lawyers, as she prepares to apply to law school in the fall. 

In past years, the Brinsfield interns have had the pleasure of meeting the namesake of the internship, Dr. Russell Brinsfield. 
Unfortunately, Dr. Brinsfield passed away earlier this year. He was a leader in agricultural science at the University of Maryland and a co-founder of the Harry R. Hughes Center for Agro-Ecology. The Brinsfield interns will continue to honor Dr. Brinsfield's legacy by studying and creating work related to agriculture's impact on the environment.

 

Close