September 2018 Update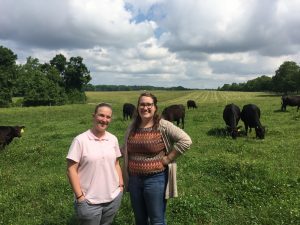 Russell Brinsfield Interns Spend Summer Working at the Wye
By: Sarah Everhart 
In partnership with the Harry R. Hughes Center for Agro-Ecology, Inc., the Agriculture Law Education Initiative (ALEI) welcomed two interns for the second year of the Russell Brinsfield Summer Internship. The interns, Alison Venable and Danielle Naundorf (pictured here at the Wye Angus Farm) worked at the Wye Research and Education Center in Queenstown, Maryland throughout the summer on issues relating to aquaculture theft prevention, Chesapeake Bay Watershed Implementation Planning workshops, and forest management on farms.
Show More

Venable, a rising second-year law student at the University of Maryland Francis King Carey School of Law, hopes to work in the environmental law field upon graduation. A member of the Food Law Society and the Environmental Law Society, she is currently pursuing a dual certification in cybersecurity and crisis management and environmental law. Naundorf, a recent graduate of the University of Maryland, will attend law school after taking a gap year. She graduated with a dual degree in animal sciences and economics, with a minor in global poverty.

The 2018 Brinsfield Interns spent the summer visiting local farms and speaking with individuals in the agricultural community to create a foundational knowledge of agricultural law. "Being able to interact with farmers out in the field allowed us to see, first-hand, the issues that affected the ag community," Naundorf said.

They also assisted in creating a report to the Bay Cabinet on the issues raised at five regional Watershed Implementation Plan (WIP) workshops. Additionally, they sat on an interdisciplinary Department of Natural Resources subcommittee analyzing the existing legal framework surrounding oyster theft and helped to formulate legal improvements to combat oyster theft on leased land.

"Working with the aquaculture subcommittee was an exciting opportunity to give the legal frameworks I studied in school a real-world application," Venable said.

The interns also created a publication providing agricultural landowners and leaseholders with resources to better manage forest land on their farms. The publication outlines the economic and environmental benefits for farmers of working with foresters to manage the forested lands on their farms.

"The hands-on learning environment within the Hughes Center and ALEI provided a unique learning experience not a lot of internships can offer," said Venable

"Working with ALEI and the Hughes Center was an experience I'm incredibly grateful for," Naundorf said. "Through the summer internship, I was able to develop professional skills and explore fields in agriculture that I never previously considered."

Close
Personnel Changes at ALEI 
Sarah Everhart has been promoted from Senior Legal Specialist to Managing Director at the Francis King Carey School of Law, University of Maryland, Baltimore. In this role, Sarah will continue to serve as a legal specialist and assume additional leadership duties.
We are sad to announce that Kelly Nuckolls Winslow is no longer a faculty member at the University of Maryland, College Park as of August 2018. Winslow has joined the National Sustainable Agriculture Commission as a policy specialist. The ALEI team wishes her great success in her new role.
4th Annual Agricultural and Environmental Law Conference
By: Jess Feldman 
For the fourth year in a row, agricultural professionals, attorneys, conservationists, and farmers will come together in November for the annual Agricultural and Environmental Law Conference hosted by ALEI.
The event was founded in 2014 by Sarah Everhart, Managing Director at the Francis King Carey School of Law, as a way to begin and maintain a dialogue over issues affecting the agricultural and environmental communities as a whole, rather than as separate interest groups. "Given the complexity of the intersection between agriculture and the environment, we are never at a loss for fascinating topics to discuss," Everhart shared.
Show More

"This year we are honored to have former U.S. Representative Wayne Gilchrest as our keynote speaker. As a former legislator and current environmental advocate, Mr. Gilchrest is the perfect person to share his thoughts on how we can best support Maryland's farmers while protecting our state's natural resources. I am also hoping he can share his insights on how the results of Election Day will shape the future of agricultural and environmental regulation."

This year's featured panels will touch on a broad range of topics, including legal conflicts and resolutions within Maryland's aquaculture industry, chlorpyrifos and the legal landscape of pesticide regulation, developing topics in agricultural and environmental law, and the legalization of hemp farming in Maryland.

"The laws are always changing when it comes to the environment and agriculture, so this [conference] is one way that people can stay up to date on what's happening and what legislation may arise in the future that may impact them," ALEI Program Coordinator Kimberly Johnson said. "This year we are happy to offer scholarships to beginning farmers and Maryland pesticide applicator recertification credit. As in years past, we will offer Continuing Legal Education Credits for Delaware Attorneys."

This year's event will be held on Thursday, Nov. 8, at the Crowne Plaza Hotel in Annapolis, Maryland.

For more information or to register, please visit https://go.umd.edu/aleiconf.

Close
ALEI to participate in Upcoming Farm Succession Planning Workshops 
By: Jess Feldman
With the average age of principal farm operators in Maryland at 59 and still rising, according to USDA's National Agricultural Statistics Service, those in the agricultural community are concerned that many Maryland producers will soon need to have a farm succession plan in place.
ALEI is partnering with the Department of Agricultural and Resource Economics (AREC) at the University of Maryland, College Park, University of Maryland Extension, the Chesapeake Bay Foundation, the Maryland Department of Agriculture, and Nationwide Insurance to host a series of one-day farm succession workshops around Maryland during the winter of 2018-19.
These workshops are supported by grant funding awarded to AREC by the USDA's National Institute of Food and Agriculture and the Northeast Risk Management Education Center.
Show More

These workshops will cover essential topics related to the farm succession process including basics of communication, retirement preparation, business planning, and estate planning tools. A variety of professionals in the field will lead the workshops, including agents and legal specialists from the University of Maryland Extension.

ALEI will present at two different sets of workshops this year. The first set, Transferring the Farm to the Next Generation, covers basic farm succession information, including how to ensure the next generation is prepared to take over the business, and how to start this conversation with your family. The second workshop series, Investing in Your Farm's Future, will focus on the financial aspect of farm succession, according to Paul Goeringer, an extension legal specialist who has helped to plan and provide these workshops since 2014.

"Some of the workshops will dive into detail about financial management, retirement savings, and long-term healthcare, all topics that can help preserve the farm's assets for the next generation," said ALEI Extension Legal Specialist Kelly Nuckolls Winslow, who helped to plan theses workshops.

Dates and locations of the workshops are below.

Transferring the Farm to the Next Generation Workshops:

Nov. 26: Chesapeake College, Eastern Shore Higher Education Center, 1000 College Circle, Queenstown, MD 21658

Dec.6: Allegany College of Maryland, 12401 Willowbrook Rd, Cumberland, MD 21502

Dec. 12: Wicomico County Extension Office, 28647 Old Quantico Rd., Salisbury, MD 21801

Jan. 16: Howard County Fairgrounds, Dining Hall, 2210 Fairgrounds Rd, West Friendship, MD 21794

Jan. 17: Baltimore County Extension Office, 1114 Shawan Road, Cockeysville, MD 21030

To register online for Transferring the Farm to the Next Generation workshops visit the following link https://transfering-farm-to-the-next-gen-winter18.eventbrite.com

Investing in Your Farm's Future Workshops:

Dec. 13: TBA, Talbot County

Jan. 31: PG County Soil Conservation District Office, 5301 Marlboro, Race Track Rd., Upper Marlboro, MD 20772

To register online for Investing in Your Farm's Future workshops visit the following link

Please contact Paul Goeringer at lgoering@umd.edu with questions or for more information.

The University of Maryland Extension programs are open to all and will not discriminate against anyone because of race, age, sex, color, sexual orientation, physical or mental disability, religion, ancestry, or natural origin, marital status, genetic information, political affiliation, or gender identity and expression.

This material is based upon work supported by USDA/NIFA under Award Number 2015-49200-24225.

Close
ALEI Publishes Conservation Leasing Guide
By: Jess Feldman
This fall ALEI will publish the Agricultural Conservation Leasing Guide, a resource for Maryland landowners and farmers interested in incorporating conservation practices into farm rental arrangements.  Once published, this article can be accessed at https://umaglaw.org/publications-library/
Show More

When it comes to leased farmland, it can be challenging for both landowners and farmers to use conservation practices. Such challenges include insufficient communication between landowners and farmers, a lack of knowledge on the part of the landowners about farming practices, and a lack of stability in the leasing relationship. To help farmers and landowners overcome these challenges, the resource contains both communication strategies and leasing techniques to help provide security in the leasing arrangement.

"The Guide builds upon the excellent information and leases in  Agricultural Leasing in Maryland and provides detailed lease language for specific conservation practices," said Managing Director at the Francis King Carey School of Law, University of Maryland, Baltimore. Sarah Everhart. Everhart emphasized, "given the status of the Chesapeake Bay clean-up and the nutrient reduction targets the agricultural sector is expected to hit, it is more important than ever for landowners and farmers to implement conservation practices on leased farmland."

The Guide is a vital part of the Agricultural Conservation Leasing Guide Education project funded by a three-year grant from the Northeast Sustainable Agriculture and Research Education (SARE) program. SARE is a program of the National Institute of Food and Agriculture, U.S. Department of Agriculture (USDA). The goal of the project is to equip agricultural service providers with the knowledge, skills, and confidence to educate farmers and landowners on overcoming the challenges of using conservation practices on leased land. In addition to the Guide, the comprehensive education program includes an informational webinar and a series of five regional workshops. Click here for more information about the webinar and workshops.

 

Close
---
Quarterly Update Archive
Agriculture Law Education Initiative September 2019 Quarterly Update
Agriculture Law Education Initiative June 2019 Quarterly Update
Agriculture Law Education Initiative March 2019 Quarterly Update
Agriculture Law Education Initiative December 2018 Quarterly Update 
Agriculture Law Education Initiative September 2018 Quarterly Update 
Agriculture Law Education Initiative June 2018 Quarterly Update 
Agriculture Law Education Initiative March 2018 Quarterly Update
Agriculture Law Education Initiative December 2017 Quarterly Update 
Agriculture Law Education Initiative September 2017 Quarterly Update 
Agriculture Law Education Initiative June 2017 Quarterly Update 
Agriculture Law Education Initiative March 2017 Quarterly Update 
Agriculture Law Education Initiative December 2016 Quarterly Update
Agriculture Law Education Initiative September 2016 Quarterly Update
Agriculture Law Education Initiative June 2016 Quarterly Update
Agriculture Law Education Initiative March 2016 Quarterly Update
Agriculture Law Education Initiative November 2015 Quarterly Update
Agriculture Law Education Initiative July 2015 Quarterly Update
Agriculture Law Education Initiative June 2014 Quarterly Update
Agriculture Law Education Initiative March 2014 Quarterly Update